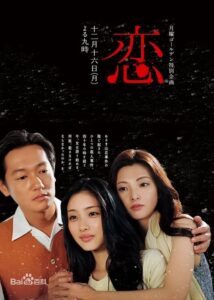 ---
The story is set in the 70s where Ishihara plays Fumiko, an university student, who gets involved romantically with her assistant professor Katase Shintaro (Iura Arata) and his wife Hinako (Tanaka Rena). However, on 28 February 1972, the police finds Shintaro seriously injured and a young man working in a electronics store (Saito Takumi) dead in a bungalow at Karuizawawhile Fumiko and Hinako are also present at the scene. The truth behind the case is not known and the case is quickly classified as a crime of passion which leads to Fumiko being sent to prison. 40 years later, a report writer Torigai Mitsuhiko (Watabe Atsuro) comes to know about this case and goes to interview the elderly Fumiko (Harada Mieko) in prison which leads him to find out what really happened at the bungalow.
|
Cheating Notes
University student Fumiko gets involved with Professor Katase's life and finds out that he is in an open relationship with his wife Hinako (there's a reason for this). The professor has no problem with Hinako dating at least two men, one a young student of his, and one an older, rich-looking dude. Hinako also doesn't mind when Fumiko gets into an affair with Professor Katase. However, when a young electrician gets Hinako's attention, Professor Katase suddenly gets jealous, and more so when Hinako starts an affair with the guy.
A kissing scene between Fumiko and the professor before their implied sex and no sex scenes between Hinako and her lovers.
Watch Trailer
Watch Clip
---
---
---