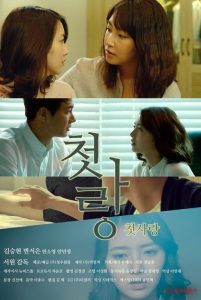 ---
Ha-Young is a voice actress for a TV documentary. She suffers from short-term amnesia, caused by a traumatic event when she was in high school. For reasons unknown to her, Ha-young is intrigued when she sees the psychiatrist Seong-sik on a taped interview in the station's recording studio. From that day on, her hallucinations and nightmares that she hasn't been experiencing for a while have resurfaced.

After much deliberation, Ha-young decides to seek counseling from Seong-sik, as if attracted to something. However, this was a calculated act of Seong-sik. It turns out that he was her first love and once stayed at Ha-young's house when she was in high school. However, because of the traumatic incident in her past, Ha-young had forgotten everything including her sexual preference and is now dating another woman.

Seong-sik, who can't forget Ha-young, decides to approach her again and prepares everything for her to remember him. He gives her her favorite chocolate, makes her listen to the music she liked, etc. Her love for him resumes, but the more she does it, the more serious her psychotic symptoms become. Her memories of her past traumatic event slowly come alive.

Seong-sik gives up on her Ha-young and tries to leave her side, but when Ha-young's girlfriend gets stabbed and dies because of the argument between the two females, Ha-yung's erased past finally resurfaces. Finally... the love affair between Seong-sik and Ha-yung resumes, and the cruel memories of that tragic day for Ha-young are completely revived.

The memory of the first love that gave Ha-young misery all her life... will she be able to forgive Seong-sik, the seed of that tragedy?
More Info: TMDB
|
Cheating Notes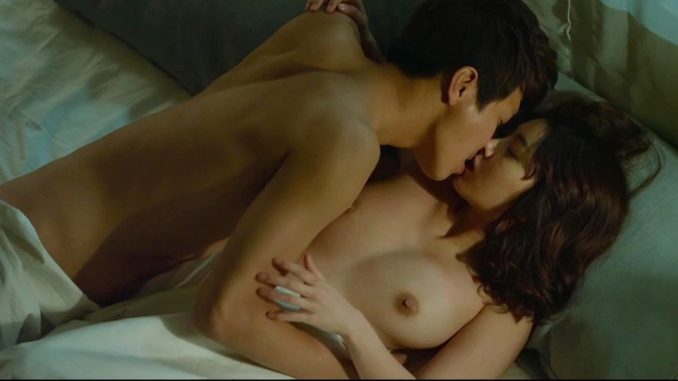 Ha-young currently has a girlfriend and we see them have lesbian sex.
Ha-young meets the psychiatrist. She doesn't remember him because of her amnesia, but he is actually her first love in high school and had stayed at her home for a few days during those times. As the movie progresses, Ha-young develops feelings for the psychiatrist. They kiss at 54:40 and proceed to pet on the bed, with her getting naked down to her bra and panties. But she isn't ready to have sex with him yet so they just sleep beside each other after petting.
Ha-young and her girlfriend have an argument, most likely because of the psychiatrist, which leads to her girlfriend getting stabbed and killed. Ha-young rushes to the psychiatrist's clinic, still with blood on her dress and her hands.
(Spoiler)
Through the psychiatrist's help, Ha-young realizes that her girlfriend is imaginary. We see flashback scenes of her with her girlfriend, but this time, she's alone in those scenes. So when they were having sex, she was just in fact, masturbating by herself.
With the imaginary girlfriend out of the way, Ha-young makes love to the psychiatrist (1:10:58). It's a nice, erotic sex scene.
Ha-young now remembers the traumatic event in her past that caused her amnesia. In a flashback scene, we see Ha-young's mother enter the bathroom while the psychiatrist (of course, he wasn't a psychiatrist then) was taking a bath and masturbating inside. We then see Ha-young come home from school and find her mother and the psychiatrist fucking on the bed. Her mother was humping hard on the lap of the psychiatrist and moaning loudly. Ha-young turned around and saw her dad, who just came home from a trip, entered the door behind her. She fainted while her dad grabbed a knife and rushed to the bed to stab his wife.

Watch Full Movie Online
---
---
---