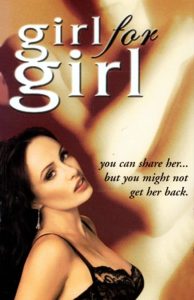 ---
Ben and Jeff are about to take their successful Internet startup company public and hit the jackpot for which they have been working so diligently. Ben is dating a beautiful yoga instructor named Caitlin, while Jeff is seeing Sara, an ambitious model. However, the men decide that they are suspicious enough of their respective girlfriends' intentions to set up a little test of their fidelity, and each sets out to seduce the other's lover.
|
Cheating Notes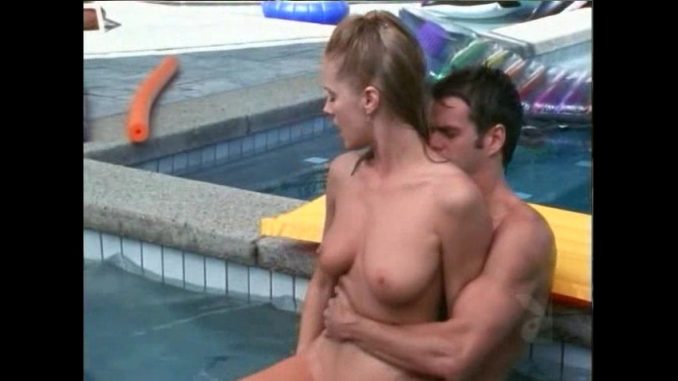 IMDB Review
"Girl for Girl" was exactly what I look for in a softcore skin flick--good looking women, watchable storylines, and plenty of sex going on. I liked the fact that the six principal characters all had storylines that led somewhere.
Jeff and Ben are business partners and best friends. Ben has a girlfriend, Caitlin (Kelli McCarty). Jeff is a guy with lots of money and nobody to spend it on but himself. He interviews a woman named Sara (Tracy Ryan) to be the company's spokesmodel but is instantly attracted to her.
The story now comes into place--Ben asks Jeff to hit on Caitlin, just to see if she'll take the bait. He's worried that Caitlin isn't faithful. Jeff does hit on Caitlin, but she refuses his advances. Jeff ends up moving Sara into his house, and then she starts asking for money for this and money for that. He suspects Sara only wants him for his wealth, so he asks Ben a similar favor--take Sara out on the town and spend lots of money on her and see if she'll fall for him. After a mere burger and fries at a greasy spoon, Sara and Ben end up sleeping together; definitely not how it was supposed to go.
Meanwhile, the two office workers, Paul and Rayna (played by Flower), have a bet going. In order to settle a dispute on whether men or women can have sex with the least emotional attachment, they make a bet on who can have sex with four people the fastest in two weeks. Rayna gets a head start by sleeping with the delivery guy in the back room soon after the bet is made. "We're going to have sex," she says to the guy, "but only this one time."
Spoilers are coming, consider yourself warned.
Eventually, Caitlin finds out that Ben slept with Sara after Ben tries to hustle her out of the office but mistakenly hands her Sara's purse instead of her own. Caitlin, who by now has resisted all attempts by Jeff to get physical, practically throws herself at Jeff. He puts up minimal resistance before giving in and having sex with her. Paul's digital camera captured the whole thing, and the next day while Paul and Rayna were watching it, Ben sneaked a peek and gets angry. Jeff also finds out a secret Caitlin's been hiding from Ben; there seems to be a reason she doesn't want to ask Ben for any cash. Soon enough, Jeff finds out Ben slept with Sara and Sara finds out Jeff slept with Caitlin. This leads Sara to Caitlin's house, where we get our quote of the movie:
Sara: I know you slept with Jeff.
Caitlin: And I know you slept with Ben. So what do we do now?
Sara: Catfight??
Priceless stuff there. Anyway, Paul and Rayna both realize their bet was a mistake; all Paul wanted anyway was Rayna (and who wouldn't? I mean, Flower looks fantastic.) They have sex, of course. Everyone else agrees to "put the past behind them" and get back together, making for a very happy ending. This was a great film from beginning to end. If you like Skinemax flicks, you'll surely love this one. Definitely tape worthy.
Women: A (Kelli McCarty had long hair in this movie, but I just saw her a couple of days ago in "Desire and Deception" with short hair. Oh well, this look is better anyway. Flower moved up a couple of notches in my Top 10 with her performance, and Tracy Ryan was great. By far the best film I've seen Tracy in.)
Sex: A (I've seen both the R-rated version and the unrated version, but the "Sex" grade is for the unrated version. A healthy amount of sex scenes, and they were all quite good. Flower undressed is always a good thing.)
Story: A+ (Kudos go out to Leland Zaitz, the writer of this flick, for putting together a screenplay that was worth the paper it was written on. Every character had something to do (and someone to do), not to mention a fair amount of storyline progression and character development. Although the dialogue got a bit too sappy at times, it was still quite good.)
Overall: A+ (This is the prototypical softcore film. Hot women, hot sex, and a good plotline. I stood up and clapped my hands when this one was over. It's a shame there aren't more skin flicks of this kind of quality.)

---
---
---