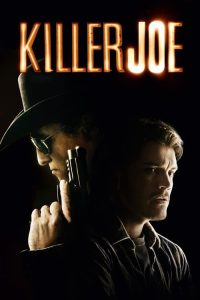 ---
A cop who moonlights as a hitman agrees to kill the hated mother of a desperate drug dealer in exchange for a tumble with the young man's virginal sister.

Finding himself in considerable debt, Chris, a Texan drug dealer, decides the only solution is to murder his mother to collect the insurance money. Getting together with his father, the ex-husband of Chris' mother, they decide to hire Joe Cooper (a contract killer) who also happens to be a police detective. The plan is that the money will go to Chris' sister Dottie. However due to the size of the contract fee, Chris agrees that Joe can take Dottie as a retainer until the insurance comes through.
|
Cheating Notes
(Spoilers)
The current wife (Gina Gershon) of Chris' father has a lover. We see her receive and kiss him in front of a motel room before she lets him in so that they can have sex inside (34:02). We don't see the sex, though.
Near the end of the film, Killer Joe, the hitman, puts a fried chicken leg in front of his crouch and makes the beaten up and bloodied wife suck it like a dick in front of her husband. He seems to cum, even though it's not his actual dick that she's sucking.
Some nudity is provided by the wife (she has no pants on when receiving her stepson at the beginning of the film), some strippers in a bar and Chris' sister Dottie (Juno Temple), who also has a very brief sex scene with Killer Joe.
---
---
---