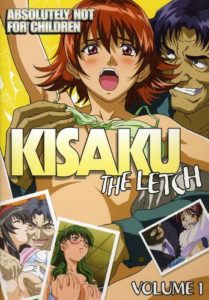 ---
Kisaku, professional letch and all-purpose pervert, is the best when it comes to blackmailing the local women into performing lurid sex acts. While quality is preferable over quantity, Kisaku has some plans for both.
|
Cheating Notes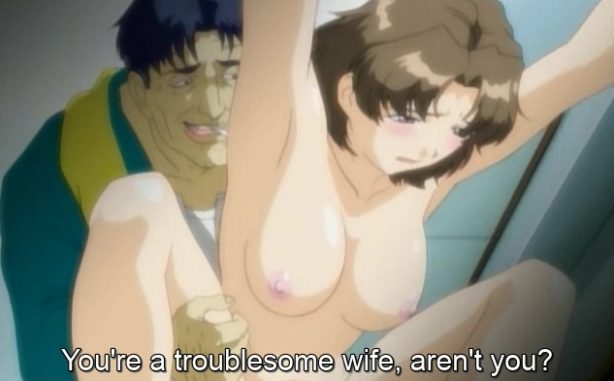 Episode 3
Kisaku, who is wearing a mask, enters the apartment of Mrs. Minami after her husband leaves for work. He gags and ties her in the balcony and rapes her in a standing position. Her husband calls on the landline while she is in the middle of getting raped and of course, she can't pick the receiver up so she can only look at it from the balcony while her attacker bangs her from behind. She blushes after Kisaku is done fucking her, signifying that she may have found some pleasure in it.
After that, Kisaku brings Mrs. Minami to the bedroom and fucks her on the bed.
Mrs. Minami doesn't tell her husband about the incident when he gets home. Later that night, she wakes up sweating beside her husband, dreaming of her rape earlier that day. She looks conflicted when she looks at her husband. She gets up and goes to the toilet room and is surprised to see Kisaku waiting there for her. He ties her and makes her squat on the toilet bowl, fingering her pussy and making her squirt.
During a dinner party,  Mrs. Minaki notices Kisaku drinking with her husband and feels that he seems familiar. Well, he is indeed familiar because his dick had already been inside her. She just didn't recognize him because he was wearing a mask when he invaded her home. She talks to him while they are beside her inebriated husband, telling him that he looks familiar and asking him how he is friend with her husband. She gets surprised when Kisaku shows him a photo of them together in her house: with her tied up and lying naked on the ground and him standing over her and taking a selfie of them. That proves that he is indeed her masked rapist.
The next thing you know, Kisaku and Mrs. Minami are out of the dining hall and are fucking on the beach doggy-style, with her leaning against a rock. No question about it, Mrs. Minami is definitely having consensual sex with Kisaku this time even if she's still resisting a bit.
Episode 5
In the middle of episode 5 (at 14:20min), Kisaku fucks Mrs. Minami from behind while she is leaning on a shelf where a wedding photo of her and her husband rests. When he is about to cum, Kisaku grabs Mrs. Minami's hair and lifts her head up to make sure that she is looking straight at her wedding photo when he deposits his load inside her.
Watch Kisaku Full Episodes Online
Episode 3 (Cheating Wife Episode)
Episode 5 (with brief, but nice cheating wife scene at 14:20)
---
---
---