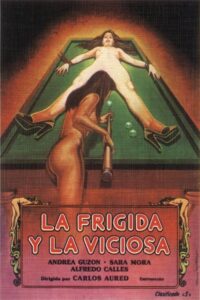 ---
A marriage in crisis will see its routine changed when a beautiful woman appears and introduces new games and sexual practices.

Their sexually dissatisfying marriage life changes when Paula discovers her latent masochism after raped by her husband, Fernando. She welcomes Celia, a vicious young woman whom she has met in a park and, in the end, Paula ends up officiating as a dog of both, while Celia will eventually dominate the situation.
|
Cheating Notes
In the end, the wife becomes the slave of her husband and the new woman, as she sleeps on the floor while her husband and the woman sleep on the bed. Eventually, she even gets to have a collar and chained just outside the bedroom door while the two are sleeping on the bed inside.
So, the couple swung, but did the wife cheat? Yes, she did. Before they had a threesome, she had sex with the woman first, without her husband's knowledge. The woman forced her at first but she gave in.
Watch Full Movie Online
---
---
---