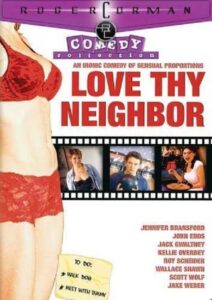 ---
Two married couples are about to give new meaning to the phrase "Love Thy Neighbor." When these best friends become more than just friends, one simple game leads to another.

Jack cheats on Tammy (Jennifer Bransford), his love-starved wife with Molly (Kellie Overbey), her best friend. He later finds out from Molly's husband, Chuck, who is also a self-pronounced adulterer, that he may or may not have aids. Now Jack thinks Chuck might have infected Molly and in turn, him.
|
Cheating Notes
At the beginning of the movie, Molly calls Jack (her best friend Tammy's husband) on the phone and talks dirty to him. She tells him to come to her house to fuck her even if it's in the dead of the night. He is seen running on the street naked to go to Molly's house a short while after that.
Chuck, Molly's husband, a biker-type dude, confides to Jack that he has AIDS which he says he got from fucking some broad. Jack gets alarmed because that means he could have gotten it too since he's fucking Molly.
The two couples go to a bowling alley on Chuck's birthday. Jack wants to leave early. Chuck asks him what could compel him not to leave, say, how about not leaving his hot wife? Then, he walks towards Tammy, hugs her, with his arm clearly brushing her breasts, and starts presenting her like she's an auction material. He slaps her ass and gropes her breasts in the process. This scene is quite hot. You should really watch it to see how Tammy or Jack reacts.
Jack decides to stay and Chuck and Molly start a game involving body shots. Molly and Chuck win the first round so Molly tells Chuck to give Tammy a body shot. Chuck starts it, with Jack protesting, and he puts salt on Tammy's belly and licks it. When he is about to suck the lemon from Tammy's mouth, Jack rushes in and takes Tammy out of there. Maybe because he thinks Chuck might infect Tammy with AIDS but also because he's a selfish prick who's fucking his friend's wife but is so insecure at the thought of it being done to him.
Jack comes to Molly's house to talk to her angrily about something. They make out in bouts, with Molly usually being the instigator, but it doesn't proceed to sex because Jack is such a whiny bitch. He leaves angry.
Tammy finds out that Jack and Molly are fucking. She destroys Molly's painting depicting Jack with a paper bag on his head (she thought it was someone else). She comes with Chuck on his motorbike and they go to a hotel. She lays down on the bed and spreads her legs in front of Chuck, giving us the impression that she is ready to have revenge sex with him.
Chuck calls Jack from the hotel room, says that he is about to fuck his wife. Jack imagines the two fucking, S&M style and in a doggy-style position. He rushes to the hotel, and when he enters the room where Chuck and Tammy are, he sees his wife's sexy pieces of black underwear on the bed. Then, Tammy comes out of the bathroom with a towel wrapped on her naked body. This gives Jack the impression that Chuck and Tammy had just finished fucking. Tammy drops her towel off in front of the two men and proceeds to wear a shirt.
(Spoiler) The three talk inside the room. Based on the dialog, we learn that Chuck just pretended to have AIDS to alarm Jack and make him confess to Tammy or something. Also, I think Chuck and Tammy also didn't really fuck in the room because Tammy says Chuck didn't do anything because he just loves Molly so much, but I could be wrong on this. The scene will become violent and someone will end up getting shot.
---
---
---