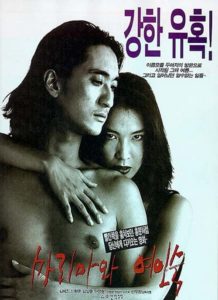 ---
When alcoholic Myeong-ja, with daughter in tow, appears at the inn of introverted Ki-wook and his simple-minded brother Tae-soo, she brings the destruction of their lifestyles in her wake.

(That's the wife and her brother-in-law in the movie poster)
|
Cheating Notes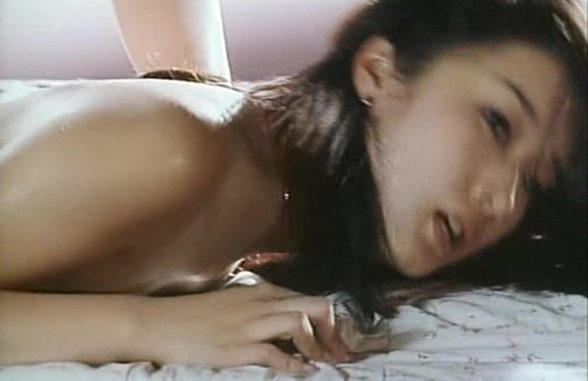 Myeong-ja, whose husband left her, comes to the inn owned by the introverted Ki-wook and his simple-minded brother. She brings along her daughter Maria. She has no money for the rent so she helps in the kitchen and restaurant chores as her payment.
Ki-wook's brother gets fond of Maria and becomes attracted to Myeong-ja. He and Ki-wook fight because Ki-wook thinks that the mother and daughter are freeloaders.
Myeong-ja kisses Ki-wook by force to try to win him over and also maybe she really likes him. After a few seconds, he pulls away from her.
Ki-wook asks Myeong-ja to marry his brother. Myeong-ja says sure, if that's what he wants, but she tells him that she wants to sleep with him that night first. Then, she kisses him. He initially resists at first but begins responding to her kisses. After some heavy petting, he pushes her away due to brief flashbacks of an event in his past (related to his cheating mom) and runs away screaming.
Ki-wook's brother and Myeong-ja get married. From this point on, Myeong-ja becomes dutiful and loyal to Ki-wook's brother as his wife, which is surprising. Meanwhile, Ki-wook becomes more depressed. He and Myeong-ja have some moments together like washing the dishes together and having their hands touch a little unintentionally but she does not engage in flirting with him any further.
Ki-wook sees Myeong-ja enter the outdoor shower. He looks lustfully at the outdoor shower even though he can't see her inside (thankfully, we do, as shots of Myeong-ha taking a shower are shown to us). When she comes out, she notices him looking at her.
Ki-wook thinks his sister-in-law is fucking a guest in the shower
There's this guest at the inn named Tae-soo who is the obnoxious type. One night, Ki-wook thinks that Myeong-ja has entered the outdoor shower while Tae-soo is still inside. While he is approaching the shower, he recalls memories of his cheating mom getting caught in the act by his dad. At the same time, images of Myeong-ja having sex with the guest in the shower also play in his mind. When he opens the shower door, only the naked Myeong-ja is inside.
Even if Myeong-ja doesn't cheat here, this scene is erotic for me because of the suspenseful music as Ki-wook approaches the outdoor shower and more importantly, we are shown images of Myeong-ja fucking the guest even if it's just in Ki-wook's mind.
Ki-wook has sex with his sister-in-law
Myeong-ja enters Ki-wook's room. She tells him that she married his brother because of him. That she can't stand it if he will leave as he told her earlier that day. She kisses him, and then she fucks him on the floor. Her husband sees them through the window. He gets a pickaxe to hack them but he couldn't do it. He gets his revenge the next day.
Maria cheats on her boyfriend
Fast forward to 10 years, Maria (Myeong-ja's daughter) is all grown up. She cheats on her boyfriend when she meets Ki-wook's brother (whom she calls uncle) after he was gone for a while by kissing him on the lips like a lover.

More Info for Maria and The Inn (1997)
Hotxshare.com (Note: I just found out that this is a better copy than the one I reviewed. It's in widescreen and the sex scenes are longer and much brighter. The cheating scenes are now much better and more erotic in this copy.)
---
---
---