---
Outrageous Request (2015) 새엄마: 아버지의 여자를 탐하다 is a Japanese Incest movie about a family with a stepmother and the son of her husband. Day by day, every normal things in life push them closer and closer. But the son has some ideas with his friends.
More Info: TMDB
|
Cheating Notes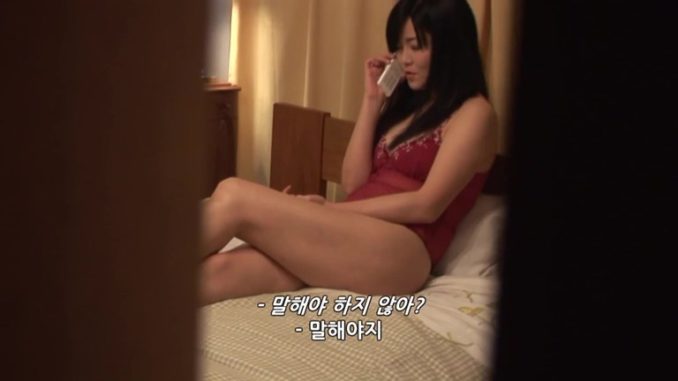 Summary
Overall, I enjoyed this softcore JAV. I especially like the part where the wife willingly has sex with the remaining masked guy after his friends were done raping her and have already left. To add spice to that, the masked guy is actually her stepson, and although she probably doesn't know that, there's that lingering doubt that maybe she does, which adds to the sexiness of the scene.
Cheating scenes in Outrageous Request (2015)
The stepmom tells her stepson to lie on her legs so that she can clean his ear. The stepson dozes off and fantasizes having sex with his stepmom while lying on her legs. Later, while taking a bath, he also fantasizes that his stepmom is giving him a handjob in the bathtub.
The stepson peeks through her stepmom's bedroom door and sees her in her red lingerie. She does look very sexy and fuckable in it. He sees her pleasure herself with a dildo while talking to her husband on the phone.
The stepson, with a mask on, lets his friends (also with masks on) inside his home and watches them rape his stepmom in the bedroom. First, they tie and gag her, but when she agrees not to scream, they untie and ungag her and have an easier way in raping her. Although she doesn't resist and is moaning with pleasure, I'm not sure if she's really having consensual sex with them at this point because she's not really participating and is just lying there, receiving the guy's thrusts. The stepson doesn't join his friends in raping his stepmom.
After his friends leave, the stepson, in a very conflicted state, approaches the bed where his stepmom is lying. He still has his mask on. When she sees him, she pulls him down towards her and starts kissing him. It looks like she got surprisingly pleasured getting gang raped and now she wants more. She has consensual sex with the remaining masked intruder. Now the question is, does she know that it is her stepson she's making love to? Probably not, because the masked intruder not leaving the house together with his buddies doesn't mean anything. Maybe it just means that he wants to fuck the stepmom alone because he is just not into gangbanging.
Watch Full Movie Online: Nontonmovie251.com
---
---
---