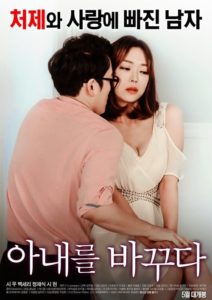 ---
Another erotic story about love between two couples, actually in-law sister's family. The younger sister and her husband move to the sister's house for a few weeks. That's enough for a new affair to happen, with all four of them.

A sexy sister-in-law instead of a quiet wife!

An innocent sister-in-law instead of a horny wife!

Jong-woo is frustrated with his wife Jae-hee because she's so silent in bed. He talks to Ji-yeong about this and she tells him she hasn't had satisfying sex ever with her quiet husband Min-soo. Jong-woo and Ji-yeong find out they enjoy various positions and plays and end up spending a night together. Meanwhile, Jae-hee and Min-soo also want something soft and affectionate and the couples can't be stopped now...

In the end, they find out about each other's affairs and they decide to swap wives.
More Info: TMDB
|
---
---
---