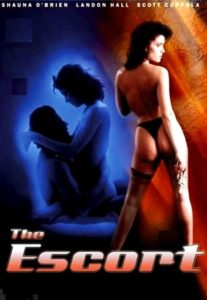 ---
A psycho escort (Shauna O'Brien) sets her sights on a married woman (Landon Hall). Revenge, blackmail and murder follow in this steamy late-night thriller. There were several sequels.

Suzanne (Shauna O'Brien) is a psycho escort who becomes the roommate of a young couple, Debra and Shane Gray (Landon Hall, Scott Coppola). It turns out that Suzanne had been committed to a mental hospital many years before when she flipped out because her closeted lesbian sister, who was secretly in love with Debra, committed suicide after Debra rejected her romantic advances and carelessly outed her in high school.
|
Cheating Notes
Suzanne (Shauna O'Brien) is an escort and we see her fucking a client at the beginning of the movie, but a little later we find that she has a boyfriend and seems to be living with him. She leaves him to pursue her revenge business against Debra (Landon Hall), but she makes love to him in the shower first. It would have been a good break-up for him but he knows about what she plans to do and won't shut up about it so Suzanne puts him out of his misery.
On her first day in the couple's house, Debra offers her dinner. While they're having it, she opens up some of the buttons on her blouse to expose her cleavage. Debra, who had a lesbian kissing experience in high school, can't help but stare. This opens up an opportunity for Suzanne to ask her if she had any lesbian experience. Their talk leads to Suzanne leaning in and kissing Debra, who also kisses her back for a few seconds then pulls away. This is the only cheating bit that our wife does.
Suzanne arrives and finds the couple having sex in the living room. She watches them secretly.
Suzanne joins Debra's husband in the hot tub and has sex with him, pretending that she is his wife. She gets away with it by blindfolding him before he sees her and not talking while fucking him. It's quite hot.
More Info for The Escort (1997)
---
---
---