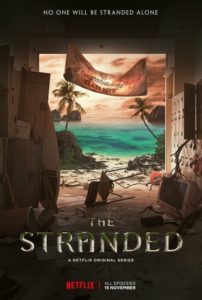 ---
Trapped on an island destroyed by a tsunami, the students of an elite school try to hold on to hope. But mysterious forces seem to work against them.
Cheating Notes
In Season 1, Episode 4, May cheats on her boyfriend Anan with Kraam. They go to an isolated part of the beach and make out. She takes off her shirt while kissing him, suggesting she will have sex with him but the scene cuts off. She spends the night with him on the beach while Anan goes to their hut to check on her and finds out that she's not there.
In Season 1, Episode 5, May and Kraam kiss again in one of the classrooms.
May's infidelity will be a big factor in the development of the story in the succeeding episodes.
May has a sex scene with her boyfriend in Episode 3. He's pumping on top of her, but they're covered in sheets.
One chick also kisses another chick while she is on a cool-off stage with her boyfriend.
Watch Trailer
---
---
---