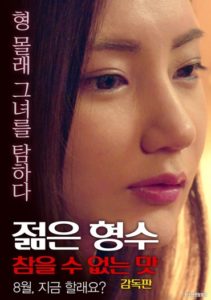 ---
In an abusive relationship, the husband brings home a close junior who is studying for a public exam. One night, the young man accidentally witnesses something he shouldn't.
|
Cheating Notes
The guy witnesses the wife being fucked in an abusive way by her husband. She sees him watching but she just continues on riding her husband.
While the wife is having lunch with the guy, she drops a spoon intentionally. When the guy crawls under the table to get it, she spreads her legs for him so that he can have a good view.
The wife masturbates inside her room and moans. The guy thinks she is hurt so he rushes inside. She covers herself and tells him that a cramp on her leg is the cause of her pain. He massages her leg a little bit. She pulls her bra down, kisses the guy and has sex with him.
The wife and the guy have sex on the couch.
The husband comes home and finds his wife and his junior fast asleep together in bed. A confrontation ensues.
Based on the several Young Sister-in-Law Korean movies I've seen, I guess sister-in-law to the Koreans could mean the wife of a guy's senior subordinate and not necessarily his brother's.
Watch Full Movie Online
---
---
---