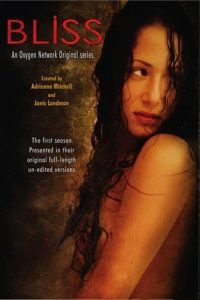 ---
Bliss is a Canadian produced, half hour dramatic television series, produced by Montreal-based Galafilm and Toronto-based Back Alley Films, an anthology of women's erotica. The series ran from 2002 to 2004.

The format of the show—short, sensual vignettes adapted for television—aired on Oxygen in the United States and Showcase, TMN and Movie Central in Canada. The series is distributed by Oasis International in Toronto.
|
Cheating Notes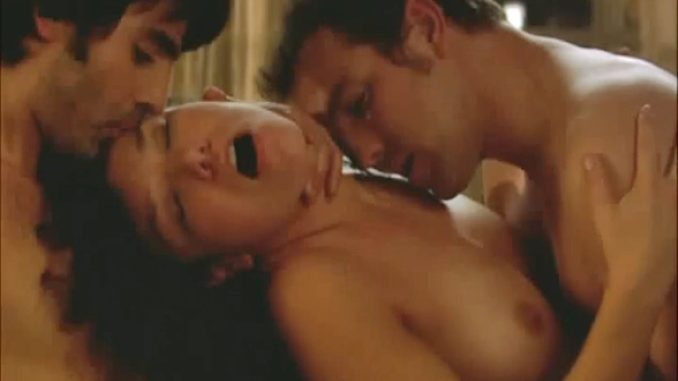 A better and hotter Canadian erotic TV series than most American ones in the same period. I like Season 1 Episode 8: The Footpath of Pink Roses and Season 2 Episode 1: Three.
Season 1 Episode 2: Six Days
A bitter married woman, whose much older farmer husband has to stay in hospital for six days, falls for a young farmhand.
Following a farm accident, Anna (Michele Duquet), a strong and feisty middle-aged farm woman finds herself without her lackluster and predictable husband for the first time. She hires Mike (Callum Keith Rennie), an unassuming, attractive 35-year-old drifter to help with farm chores while her husband recovers in hospital. To her surprise, this sexually and emotionally repressed woman develops an intimate rapport with the farmhand, one that brings out many lost and buried feelings. As her husband's return draws near, she must decide whether she is willing to take the plunge with this new man and leave behind all that is familiar.
Season 1 Episode 5: Voice
A female photographer is somehow being haunted and seduced by her lover's very much alive wife.
In a supernatural way, the wife of Ally's (Mikela J. Mikael) lover, Tyler (David Lovgren), manages to infiltrate Ally's dreams. Through these tense slumbers, the wife (Veronika Hurnik) warns Ally about the web of deceit Tyler is weaving for her. Not knowing if this is a fact, a strange telepathic connection or just her guilty conscience speaking, Ally is eventually driven to meet this woman. In a run-down motel, she finally encounters the wife. As the two women try to understand one another, an unexpected outpouring of need occurs between them. Finally, they are able to free themselves from the emotional trap that Tyler has been setting for them.
Season 1 Episode 7: In Praise of Drunkenness and Fornication
Three couples meet up for a regular dinner party. The couples are each in different phases of life, age-wise. There is jealousy that erupts as the older couples are envious of the younger couples. As the night continues the youngest couple leaves. The two older couples are left to drink and maul over hidden desires. The night ends with the two remaining couples switching partners for the evening.
Season 1 Episode 8: The Footpath of Pink Roses
A young woman who is into MMA-style self-defense is taken for a loop when her sexual desires take a turn for the primal. Her vanilla boyfriend is conflicted about her desires after she asks him to make love to him roughly and suggests they forget it ever happened. She meets a handsome self-defense teacher who helps her express her inner desire.
Season 2 Episode 1: Three
A woman and her two close male friends all live together. They realize while waiting for her boyfriend to come over for dinner that maybe there is a reason for them not finding the "one" and that reason might very well be that they belong together, all three of them. The woman crosses the line from friends to lovers with both of her charming and attentive male roommates.
Season 2 Episode 7: The Piano Tuner
A lonely neglected piano-playing housewife has a chance encounter with a handsome blind piano tuner.
Season 3 Episode 1: Tying Up Gerald
Mireille catches her husband in the middle of a BDSM session with a dominatrix, Vanessa. Since he's into submission, not sex with Vanessa, Mireille also has a session with her to see what all the fuss is about and learn how to dominate.
Season 3 Episode 6: The Arrangement
A modern Indian-American woman who has a casual lover goes on a date with an Indian man who was arranged by her parents to be her future husband. She tries to break off the arrangement but he turns out to be quite charming, attractive and respectful of her wishes, so she ends up making love to him.
Season 3 Episode 7: Les Petits Mots
A female DJ (who is in a 'convenient' relationship with her fellow male DJ) and a bookstore owner clash over ideology, new technology vs the old way of doing things. The only thing more stimulating than their debates is their fiery passion for each other.
---
---
---