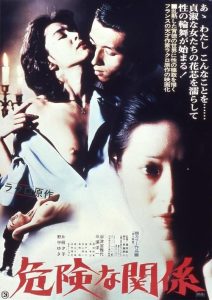 ---
Director Toshiya Fujita and screenwriter Kaneto Shindo adapted Pierre Choderlos de Laclos' 18th-century epistolary novel 'Les Liaisons dangereuses' to a contemporary setting. An abominable and burning jealousy and an evil relationship between a man and a woman unfold in the nature of a game. Eventually, jealousy's ripples deeply hurt the true love of a chaste married woman.

Photographer Yuji Samukawa lives in his aunt Chiyoko Asakura's villa in a corner of Mt. Tateshina. Yuji receives a letter from Ayako Watase, a widow with whom he's had an affair. The letter tells about her new lover, composer Tatsuo, and that she still has a grudge against her ex-lover Kitabayashi for leaving and hurting her, and that she wants to take revenge on Yuriko, Kitabayashi's fiancee and the reason why Kitabayashi left her. She asks Yuji to seduce Yuriko to help her get her revenge.

When Yuji returns to Tokyo for the first time in a while for work, Ayako introduces him to Yuriko. He observes that she has an innocent mind and is unsure about helping Ayako in taking revenge on her, plus he is in love with Yoshiko, the wife of a university professor.

A few days later, Ayako visits Yuji in his photo studio, once again requesting his cooperation in her revenge scheme against Kitabayashi, and uses her body as a weapon to seduce him. When Ayako learns that Yuji has followed Yuriko to the mountain lodge, she tells lies to Yuriko's mother, telling her that Yuji and Yuriko are having an affair.

Yuji asks Yuriko out and makes love to her in a cabin.

When Yoshiko finds Yuji in front of her house, his entire body covered in snow, he learns of her true love, and she surrenders her body to him.

Yuji and the other characters are called to the hotel lobby by Ayako. There, Yoshiko finds out that Yuji and Yuriko had a physical relationship. She is devastated and runs away. Yuji slaps Ayako and goes after Yoshiko. Ironically, a tragic path to death awaits Yuji, who tries to live out his love for Yoshiko. Deep in the valley of Mt. Tateshina, the jeep carrying Yuji and Yoshiko and the car of Tatsuo, who chased Yuji by Ayako's order, fall. After learning of the terrible incident, Yuriko, in a fit of anger, throws a pot of boiling cofee on Ayako's face, scalding it. When Ayako is met by newspaper reporters she doesn't cover her disfigured face.


|
Cheating Notes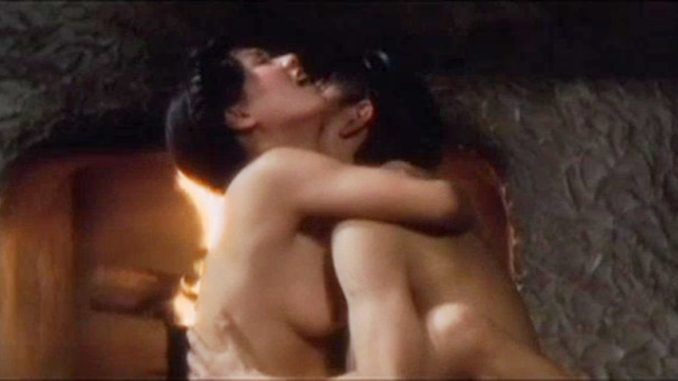 29:26 - Ayako seduces and makes out with Yuji on a couch.  Her current boyfriend is Tatsuo.
43:30 - Ayako fucks Yuji in his photo studio. In the morning, she wakes up and finds Yuji gone while her boyfriend Tatsuo is there, staring at her. I'm not sure what's up with their relationship because he isn't mad and is even smiling. I guess he knows about her revenge plan.
55:26 - Yuji asks Yuriko out, kisses her in the car and fucks her on a couch in a cabin. She is the fiancee of Kitabayashi, the guy who broke Ayako's heart.
1:07:50 - Yoshiko gives in to Yuji's persistence. They fuck at her place and then in front of the fireplace in a cabin. Yoshiko is the wife of a university professor whom Yuji is in love with.
---
---
---