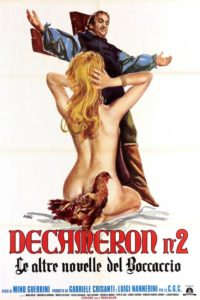 ---
During a banquet, the diners begin to tell various stories to be happy. All the novels speak of betrayals and erotic adventures.
|
Cheating Notes
First Story
The wife is fucking a man in her home when her husband arrives. Her lover has to hide under the bed but is eventually discovered by the husband. They have a chase and the lover is caught and brought back into the house by the husband. After some dialogues, it ends with the husband and the lover about to kiss (yep, gay plot twist) while the wife's back is turned. The wife here is pretty and has a nice body.
Second Story
A priest convinces a man that he has died and gone to purgatory in order to take advantage of the man's voluptuous "widow." I didn't see any sex scene, just the wife letting the priest in her house and closing the door after them.
Third Story
A gentil daughter goes to a randy hermit seeking spiritual enlightenment and he teaches her how to put his "devil" in her "hell". The problem is, after that, she wants to put the "devil in hell" 24 hours a day.
Fourth Story
A "faithful wife" and "loyal" servant fool and cuckold their husband and master. The young servant comes inside the couple's bedroom and wakes up the wife. I think he wants to have sex with her. The wife wakes up her husband while the servant hides on the side of the bed. She tricks him into going out of the house to check or watch for something. Then, she makes love to the servant on the bed while her husband stands guard in front of their house, watching out for something.
Fifth Story
A priest and a wife fool and cuckold the latter's overly-religious spouse. They succesfully convince him to lie down (in a crucified form) and pray on the ground outside the house while they have sex inside, on the couple's bed.
Sixth Story
The final story features tit-for-tat cuckolding which evolves into free-spirited wife-swapping among two very Fellini-grotesque couples.
More Info for Decameron II
Watch + Download Link Online: Archive.org
Related Films
Decameron II (This film)
---
---
---