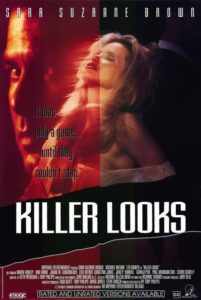 ---
A man gets turned on watching his wife with other men as long as she plays by the rules. When she brings home a new stranger who likes to play his own games, the husband finds his marriage in jeopardy.
|
Cheating Notes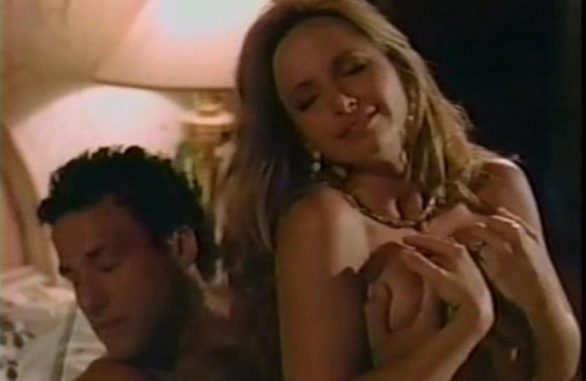 Summary and Recommendation
This is one hot movie, one of my favorites. The first scene where the wife gets it on with the plumber is very nice. The part where she is seducing him in the kitchen, wearing bikini panties with no bra on and an open-buttoned jacket just barely covering her nipples while rubbing some ice on her exposed chest is fantastic. I also like the husband arriving and silently watching his wife banging the plumber. I share his fantasy on this one.
In other parts of the movie, it is very erotic that the husband suddenly feels jealous and threatened when an alpha jerk enters the picture and suddenly he is not so comfortable anymore with sharing his wife. I like seeing him lose control of his wife. The wife now becomes selective and not so open to whoever he chooses for her (like their couple friend) when she becomes attracted to a real alpha male jerk, instinctively feeling that she belongs exclusively to him and no one else.
The dialogues are golden, and they really play a huge part in making the movie so goddamn erotic, so pay attention to them.
Cheating scenes in Killer Looks (1994)
Wife seduces the plumber
Diane seduces the plumber working on their piping and makes love to him. Her husband Phillip arrives and catches them in the act. He chases the plumber away with a gun. Then, he starts making out with Diane and they start laughing. Apparently, they set it all up because Phillip gets off seeing his wife having sex with another man.
Couple meets an alpha male that will compromise their wife sharing setup
The couple goes to a restaurant and encounters Mickey, an alpha male jerk type. Phillip tells Diane to start seducing him. Pretty soon, Diane is grinding on and almost practically making out with Mickey on the dance floor. Phillip interrupts them and tells Mickey to lay his hand off his wife. He is expecting that Mickey will cower with fear like the plumber did. Instead, it ends up with Mickey punching him. When they reach home, Phillip tells Diane that she broke their rule by grabbing Mickey's butt first in the dance floor, which emboldens Mickey to punch him. It is established then that Phillip does not like Mickey because he is a threat as an alpha jerk and might actually take his wife away from him.
The next day, Diane meets Mickey in a flower shop. He is good in finding people so he is able to find her. He invites her to have coffee with him in a restaurant. She is reluctant but finally comes with him. While in the restaurant, her husband calls her and tells her to bring home a man with her later in the afternoon. He suggests someone like the waiter in the restaurant the night before because he was checking her boobs out. Diane gets kind of pissed with her husband's game at this point, asking him if every guy they meet is a potential screw for her. Then she looks at Mickey, and practically says to her husband, "Okay, you want me to bring a man? then I'll bring a man."
So Mickey goes to the couple's house a little later in the day. He and Diane start screwing on the bed. Phillip arrives, and as usual, watches his wife getting it on with another man before announcing his presence. But he is surprised when he finds out that it is Mickey, the alpha male that he hates, who is in their bed with his wife. He gets mad and punches Mickey and chases him with a gun. The couple fights, and Phillip sleeps on the couch that night.
While sunbathing, Diane recalls her sex with Mickey and begins fantasizing, which means she is really attracted to this alpha male jerk.
Husband encourages wife to swing with another couple
Phillip invites Vince and his wife, Cynthia to dinner so that Cynthia and Diane could fool a bit. Diane doesn't like the idea because here is her husband doing his games again, and yet, when he doesn't like what she likes (Mickey), he becomes emotional. The dinner pushes through, which ends up with Cynthia stripping her clothes and trying to get it on with Diane. But Diane is not really in the mood and she breaks away from Cynthia, especially when Vince comes closer to try to join them.
Meanwhile, Mickey is sneaking in the couple's backyard, watching them. Phillip notices him and goes after him. They have a fight. Mickey overpowers him and proposes a bet to him. He tells him that since he gets aroused when other men fuck or chase his wife, then they should play a game in which Mickey tries to take Diane away from Phillip, while Phillip tries to keep Mickey away from her. The prize, Mickey says, is Diane herself. Somehow, Phillip agrees, because he is turned on by the idea. But a few days later, he changes his mind about it.
Wife goes to alpha male's mansion, ready to be his?
Later in the movie, Diane goes to Mickey's mansion, seemingly decided to be his fuck doll after some deliberation. There, she finds two of Mickey's chicks hanging out with him. She asks him if he lives like that everyday, When he says yes, she tells him that she can get used to it, meaning she is really attracted to the guy that she's willing to fit in with his lifestyle filled with other girls. Mickey blindfolds Diane and then he tells the two chicks to start making love to her. Diane lets them, but changes her mind after a while, and runs away from the mansion to get back to her husband.
A climactic scene happens with the two guys and Diane in the couple's home. Mickey reveals to Diane about the bet he and her husband made. Diane gets mad at this. Finally, she chooses to leave both men. If I have to guess, she will probably come back to Mickey (not her husband) later and fuck him for her sexual needs. But that is, if Mickey survives the night, because the last scene is of him tied up and laughing, while in front of him is Phillip whose wife just left because of him.
More Info for Killer Looks (1994)
Info + Download Link: Rarelust.com
---
---
---