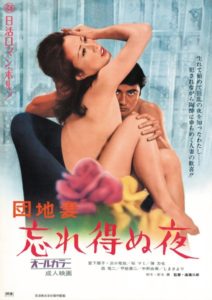 ---
3rd in the Nikkatsu Roman Porno's Apartment Wife series.

During a company trip to Hakone, Ritsuko (Junko Miyashita) gets drunk and gets fucked in the dark by an unknown co-worker. As she is not satisfied sexually with her husband Shuichi, she can't deny the pleasure that her body felt during the night. She tries to find out who the man was back in her office. The men she works with approach her one after another, but she couldn't tell who the perpetrator was among them.

A few days later, when Ritsuko is in the locker room, her co-worker Nagata forces himself on her. He rips her clothes off, put his tongue all over her body, and has sex with her. Ritsuko finally learns that he is the man who fucked her that night. Since then, she isn't able to refuse Nagata's invitations and they go to a hotel and have sex several times.

Shuichi's younger brother, Rikuya, has spent all the money that is supposed to be for her mother's medication. Shuichi gets mad at him for that. Rikuya, along with his woman, Eri, sees Ritsuko together with Nagato entering a restaurant. He writes a letter to Ritsuko, pretending that he is Nagata, and asks her to come to the hotel where the two lovers usually meet. Ritsuko is shocked to find that it is Rikuya, not Nagata, who is waiting for her at the hotel room. Rikuya forces her to have sex with him. Eri, Rikuya's woman, tells Shuichi that there's something going on between Ritsuko and Rikuya and she accompanies him to the hotel where the two are fucking. Shuichi sees Ritsuko and Rikuya together with his own eyes. Ritsuko rushes out of the room. Ritsuko, who lost everything, decides to reveal the truth to Shuichi. She gathers up her baggage and leaves Shuichi, who remains silent after hearing her confession.

Later, Ritsuko begins working in a special bathhouse. Shuichi comes as a guest once a week. In her playtime with Shuichi, Ritsuko feels a pleasant euphoria with him that she didn't feel when they were married and living together. This euphoria spreads into the depths of her body, and for the first time in her life, she felt a glimpse of happiness as a human being.
More Info: IMDB
|
---
---
---