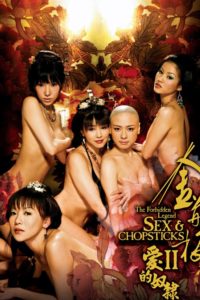 ---
Like its predecessor, this no-holds-barred sequel from Hong Kong - a piece of ultra-exploitation adapted from the famed 17th-century Chinese novel The Plum in the Golden Vase - attained instant notoriety for layering on graphic violence and sex in copious quantities. Lam Wai-Kin reprises his role as Simon Qing. In the prior installment, Qing had sex with a virginal nun, then bedded a concubine, Lotus (Serina Hayakawa) and conspired with her to rub out her dwarf husband, Wu Da-Lang. This time around, Simon ostensibly still has relationships with both of the said women but has regressed into a sex addict with fetishistic leanings. As the story unfurls, he attempts to ravish many more women, including his friend Hua Xizu's wife Pinky (Kaera Uehara), whose husband he plans to murder while he's at it. At about the same time, Wu Song, the brother of the murdered Wu Da-Lang, schemes to off Simon. Simon sees it coming but doesn't count on Wu soliciting the help of ex-sister-in-law Lotus, with whom he once had a torrid affair.
|
Cheating Notes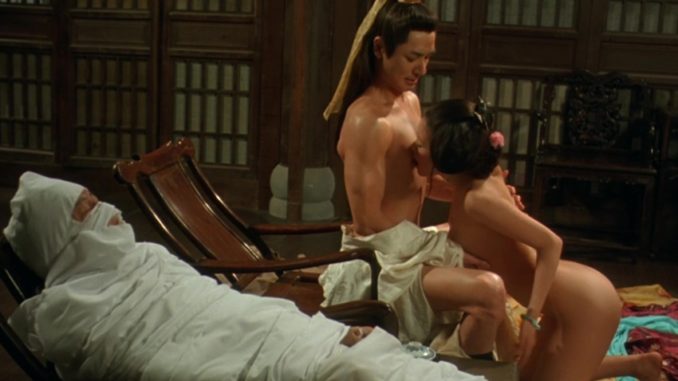 Lotus from Part 1 is now Simon's second wife/concubine. One night, he ties her up and lets his friend Hua fuck her while he watches. But that's actually part of his plan so that he can fuck Hua's own wife, Pinky. After having Hua beat up by several men and thus, rendering him immobile and injured with bandages wrapped all over his body, Simon fucks his wife in front of him, justifying to him that he had already fucked Lotus, so it's just proper that he fucks Pinky too. It's too much for Hua to see his wife being fucked by his friend in front of him, not sure if it's due to too much arousal or too much grief, and so he dies in the process. Simon makes Pinky his third wife after that.
During a flashback scene, we learn that Lotus cheated on her midget ex-husband with his regular-height, good-looking brother, Wu Song. She fucked him while he's passed out drunk when her husband went out of town one night. Wu Song was so guilty that it happened, but it's not his fault, really, as it is without his consent and Lotus just started banging away on top of him while he's dozing off.
Simon ties Pinky up and tries to share her with another man (his male servant), just like he did with Lotus. But she knows what he's up to and has hidden a pair of scissors within reach and use that to thwart his plan. He later has her gang-raped by five masked men because of that, with him joining in.
Being deprived by her husband who favors the other concubines, Moon, the first wife, lets Simon's servant fucks her when he is sent in in her room while she's pleasuring herself. She isn't satisfied and bites his dick off, though.
Watch Full Movie Online
---
---
---