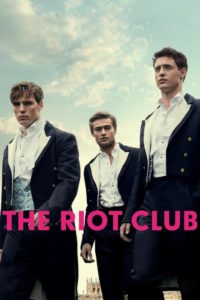 ---
Two first-year students at Oxford University join the infamous Riot Club, where reputations can be made or destroyed over the course of a single evening.

Alistair and Miles, both with aristocratic connections, start their first year at Oxford University though they are very different, Miles is down to earth and happy to have a girlfriend, Lauren, from a lower background whilst Alistair is a snob with aspirations to follow his uncle, a Tory MP. The common bond is that both become members of the Riot Club, a long established elite drinking club priding itself on hedonism and the belief that money can buy anything. Having been barred from most establishments in Oxford they have their annual dinner at the function room in a country pub, where their rowdy behavior angers other patrons though they reimburse Chris, the landlord. They hire a prostitute but she refuses to perform group sex, then one of them rings Lauren, whom they importune to Max's horror. Getting progressively more drunk and ingesting drugs they start to trash the room and, when Chris comes to complain, Alistair savagely assaults him, landing him in hospital. Though shocked, none of the others do anything to stop him except Miles, who is attacked before ringing for an ambulance. The boys are all arrested but believing that the club is more important than the individual they agree not to give statements and suggest that Miles, as the newest club member, should take the blame for the attack on Chris.
|
Cheating Notes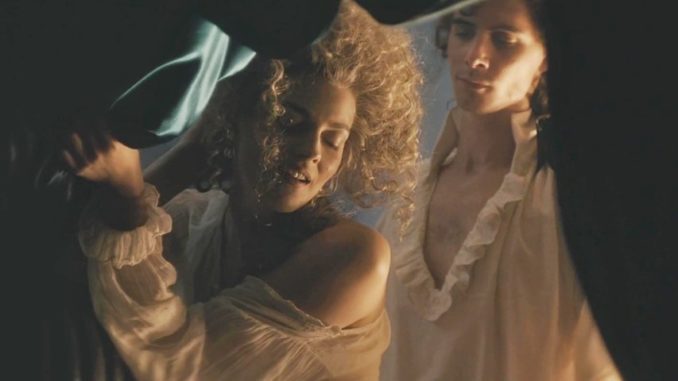 At the beginning of the movie, a professor walks hurriedly towards a room. When he opens its door, he sees his wife inside, getting fucked by a student (Henry Aldershot aka Lord Riot, founder of Riot Club) from behind in a standing position. When the student tells him that he is in the wrong room, he tells him that the woman is his wife, to which the student replies, "I must apologize. Nothing in her conduct made me think she'd ever been satisfied before." The wife silently laughs, but immediately suppresses it when her husband pulls a knife on the student.
A few frames later, we see another angle of the student fucking the wife from behind, and then we see his lifeless body lying on the bed, with a stab wound on his belly.
Harry, a Riot Club member, wins in a fencing match with his opponent falling on the floor. He notices that his opponent's girlfriend, who assists her boyfriend on the ground, is hot. He pretends to care about the guy and asks if he's ok, but that's really for the girlfriend, who smiles at him and touches her hair, indicating she is flirting. She gives Harry a blowjob in the dressing room later while he's talking to a fellow Riot Club member on the phone.
Miles and Alistair become members of the Riot Club.
The Riot Club holds its annual dinner at a function room in a country pub. They hire a prostitute and ask her to give them blowjobs but she refuses and leaves. Someone texts Miles' girlfriend from his cellphone, telling her to come. When she gets there, Alistair offers her £300 to give them blow jobs, then he disses Miles in front of her to convince her to do it. He tells her that Miles is just using her for sexual purposes based on what he said earlier ("Girls for now, Girls for later").
Another member offers Lauren a larger sum, £27,000 to be exact, equivalent to 3 years tuition fee, for the same blow job proposition. Lauren looks at Miles, expecting him to react against the guys insulting her. Miles, thinking it's a large sum of money and therefore it's not up to him to decide, answers "It's up to you..." Lauren gets offended and asks him if he thinks that she's the sort of scrubber (promiscuous woman) who'd take it. She leaves, but one of the guys forces himself onto her first, kissing her lewdly, before letting her go.
Summary
Lauren should have accepted the money and given the members blow jobs in front of Miles, just to punish him for thinking that she could accept such an offer. It would prove him right, but hey, serves him right for thinking lowly of her.
Watch Full Movie Online
---
---
---