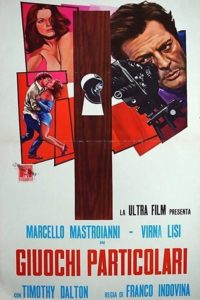 ---
Forty-year-old Sandro (Marcello Mastroianni) is married to Claude (Virna Lisi). Sandro has one strange obsession: he is a self confessed voyeur. He films his wife in all walks of life on his wobbly hand held camcorder. But everything changes when Mark (Timothy Dalton) enters their life.
|
Cheating Notes
47:13 Husband hoses his wife and the young guy down with a garden hose. He looks intensely at his drenched wife, whose tits are poking through her wet shirt, and with the young guy's hands all over her body, attempting to shield her from the spray of the water.
1:11:06 Wife dances closely with the guy in front of her husband.
1:21:38 Guy starts raping the wife in the outdoors. It takes a while until she kisses him back. They kiss with their clothes on while lying on a bed of dry leaves. The husband watches and films them from a distance.
Watch Clip
Watch Full Movie Online
---
---
---