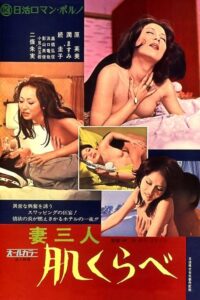 ---
Takagi, his wife, Kazumi, Kikuta, and his wife Maki were best friends from the school days, and looked like a family. One night, Kazumi, angry with Takagi, who had been late on his way home, ran away from home and went to Kikuta's house to stay. The next morning, Kikuta and Maki left Kazumi at home and went to work. However, when Kikuta returned to his house to pick up her lost items, he instinctively held Kazumi, who was just taking a bath.

On the other hand, Takagi, who was contacted by Maki, went to Kikuta's house to pick up Kazumi, but Kikuta and Kazumi were away. And, Takagi and Maki embraced each other somehow. At the same time, Kikuta and Kazumi were also intertwining each other's bodies in a hotel. A few days later, Takagi and Maki went to Izu. On the other hand, Kikuta and Kazumi also stayed in the room next to the one of Takagi in Izu, by chance. Takagi and Maki, who had a lot of alcohol in the bar, made a mistake and entered Kikuta's room.

Two couples who did not know as they were busy in their sex act. At that time, two people of Mitsuo Yamano and Yoko Nakao who passed the hallway witnessed this spectacle, and they were stunned. The next day, Yamano and Yoko offered Kikuta and others the offer to swap. Eventually, three couples in the room changed their partners and reached a realm of ecstasy because of the swapping.
More Info: TMDB
|
---
---
---