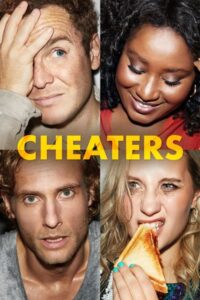 ---
A chance meeting after a cancelled flight leads to an unlikely night of drunken airport-hotel sex between two strangers in their late twenties, Fola and Josh. Both are already in relationships (Jola is married to Zack while Josh lives with his girlfriend Esther) and unknowingly soon-to-be neighbours.
More Info: TMDB
|
Cheating Notes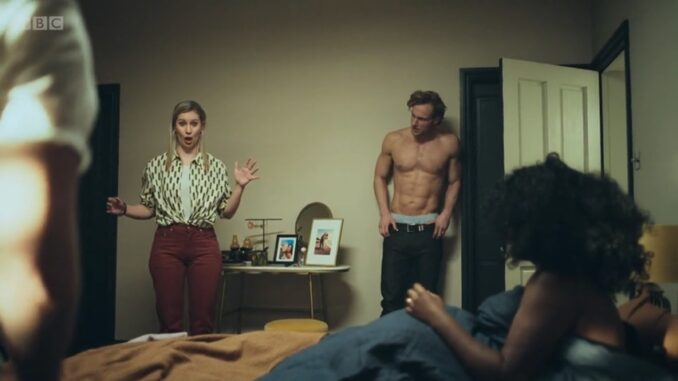 "How can you say you love me when you want me to fuck someone else?" - Wife to husband, when he found out that she cheated but tells her to continue so that he can watch.
In episode 1, Fola (a black chick) has a one-night stand with Josh in a Finland airport. When they get home, they find out that they are new neighbors. After some reluctance, they continue their affair. We see them make out here and there.
In episode 6, Fola and Josh fuck at her place. Zack, Fola's husband, arrives and hears them moaning inside the bedroom. Zack is surprised that he got an erection and so he jerks off. He hasn't had sex with Fola for a while because he couldn't get aroused anymore.
In episode 9, Zack watches Fola and Josh make out a bit on the street from his window. He gets aroused and fucks Zola on the couch that night.
In episode 10, Zack leaves his phone in a room where he knows that Fola and Josh will be talking and maybe do something else. The two do make out inside the room, and Zack jerks off to its recording on his phone.
In Episode 11, Zack tells Fola that he knows that she's fucking Josh, but that he wants her to continue doing so provided he gets to watch. The confrontation ends up with Fola mad, asking Zack how he can say that he loves her when he wants her to fuck someone else.
In Episode 18, Zack lets Josh and his live-in girlfriend-now-fiancee Esther crash at their place after a night of drinking. He gives Fola the approval to fuck Josh that night but he gets to watch. So Fola starts fucking Josh inside the bedroom while Zack, unknown to Josh, watches and masturbates outside the door. Josh and Fola have let their feelings known to each other at this point, and so Fola closes the door to have a special kind of lovemaking with Josh without her husband watching. Meanwhile, Esther wakes up and sees Zack watching outside the bedroom door. She pushes the door open and sees her boyfriend and Fola making love on the bed. A confrontation ensues.
Watch Full Episodes Online
---
---
---