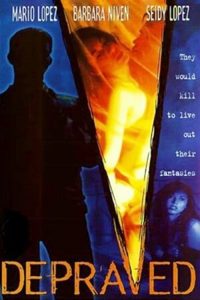 ---
Steamy erotic thriller centering on Ophelia and Dan, a couple whose sexual fantasies get so wild, Dan wants to put a stop to them. When Ophelia is discovered dead, Dan contacts his brother to help him get rid of the body and cover his tracks, but the past soon comes back to haunt him.

In California, the construction worker Dan Mata (Antonio Guzman) and his fiancée Ophelia Ramos (Seidy Lopez) have exhausted their intense sex life and now they have crossed the line of their fantasies with threesome and other type of kinky sex. On the Valentine Day, Ophelia has sex with her boss Dr. Scott Lunwitz (Bob Zachar) expecting to please Dan that actually is disturbed with the situation. He expels Scott from their house and argues with Ophelia that leaves their house too. On the next morning, Dan finds Ophelia in the house stabbed three times on the chest and he does not know whether he had killed her or not. His brother Jessie Mata (Mario Lopez) dumps her body in the site where they are building a house and Dan is surprisingly visited by Monica Stienman (Barbara Niven), who introduces herself as a psychologist and detective and friend of Ophelia. She tells that Ophelia had called her upset with their argument and she offers her services to Dan that questions later whether he shall confess the murder of Ophelia or not.
|
Cheating Notes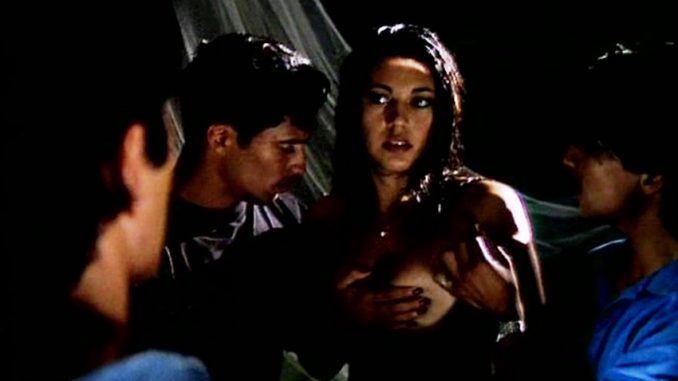 Ophelia is a top-tier slut who passes off her open relationship status with her fiance Dan as both their ideas, when in fact, it's basically all her fantasy. Proof: Only men are allowed in their "open relationship" because when Dan even introduced the idea of a threesome with another female, she got mad at him and repeatedly hit him with a pillow (47:29). Dan is cuckolded big-time and in really humiliating ways as listed below.
Two pizza delivery guys point a gun at Dan and they tie him up and fuck Ophelia in front of him (4:40). Dan comes in his pants while watching. After the sex, Dan unties himself and pays the pizza guys for their part in the couple's role-playing.
In another role-playing, Dan pretends as Dr. Scott, Ophelia's boss who likes Latinas and who always hit on her but she's not supposedly interested. Ophelia pretends to call Dan on the phone, telling him not to pick her up because Dr. Scot is taking her home. She then initiates making love to 'Dr. Scott', but he says something to spoil the moment and they don't proceed to fuck (11:00).
Ophelia gives Dan a special Valentine's Day treat. When Dan comes home, he finds her naked and on top of her also naked boss on the bed (19:49). Dan is speechless and when he approaches the two to give Ophelia the flowers he brought, she starts riding her boss' cock. While Dan and Ophelia are both holding the flowers, she talks to him while at the same time continuing on humping her boss. She then tells him to kiss her but he couldn't, apparently shocked at what he's seeing. Ophelia gave him the impression that she doesn't like her boss and is fending off her advances and now, there she is with him. Ophelia and Dr. Scott switch positions and he is now on top of her. He chains her on the bedpost and starts fucking her, but Dan tells him to get off his fiancee. and he does.
Dan tells Monica, who introduced herself as a cop and a psychologist, about the time when Ophelia pretended as a stripper at his younger brother's birthday party and gave them and his brother's male friends a show (57:12).
(Spoiler)
Monica has sex with Dan and then we find out that she is/was the wife of Dr. Scott. But she had sex with him only after her husband is killed.
Summary
Oh wow.
---
---
---