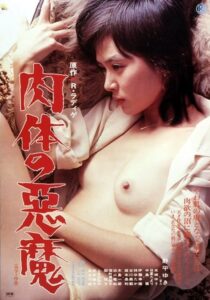 ---
Jun is a high school student who is preparing for his college entrance exam. On the day of his grandfather's third anniversary, one of the attendees caught his eye: the young and beautiful Naoko Mizuki. A few days later, Jun found out that his friend Emi knew Naoko, giving him an excuse to talk to Naoko in a second-hand bookstore. Naoko took Jun to her home, but there he found out that she is already engaged. He then tried to forget her but couldn't. One day, Naoko, who was now newly married, came to Jun's house. Jun took the plunge and followed her home. Having drunk whiskey, he suddenly attacked her and forced himself on her. She gave in and made love to him. After that, Naoko had sex with her husband Ishimori passionately for the first time in a long time.

Ishimori transferred to his company's Singapore branch to seize his chance to be promoted. Naoko, meanwhile, was so immersed in the joy of sensuality that she could see that her body was blooming as a woman. On the other hand, Jun had been suffering every day since that day he bedded Naoko, but when he was informed that Naoko was going to Singapore, he rushed to her mansion because of his love for her. .. However, it was Emi, not Naoko, who was there. Jun raped her and blamed her for his dillema with Naoko.

One day, Naoko appeared in front of Jun on his way home from school to confront him about what he did to Emi. While they were arguing in his room, Jun forced himself on Naoko again, even if his mother was home. Naoko, who already blossomed as a woman, gave in again and surrendered her innocence. Jun begs Naoko to live with her, but Naoko still leaves for Singapore a few days later.

Ten months later, Jun failed his college entrance exam and attended a prep school. One day, he happened to meet Naoko again. Recalling the time when he was crazy about Naoko, Jun felt the weight of time again. However, Naoko didn't want to do anything intimate with him anymore. It seemed that Naoko had changed for her husband, but Ishimori's work wasn't going well, and he fell into a terrible depression. One night, After making love to Naoko, Ishimori drank beer with her and laced their beers with arsenic. The devil in the flesh who had captivated a young man had died along with her husband.
|
---
---
---