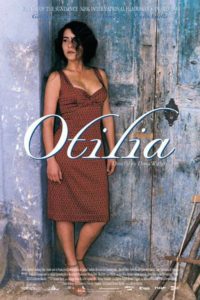 ---
Otilia is both blessed with a body that is the epitome of feminine perfection and cursed by an ugly mole that mars her beautiful face. The juxtaposition between fabulous beauty and disfigurement proves unsettling for the villagers and she grows up friendless, save the family's hired hand Melquíades. Though most figured she would end up as a prostitute, she is married off to Isidro, the local police chief. Cruel and petty, this ogre of a man brutalizes her and eventually infects her with venereal disease, rendering her sterile. With the help of Melquíades, Otilia takes a series of lovers to spite her husband. One day, the wounded Ruben -- a wanted outlaw -- staggers onto her doorstep and immediately she is in love. Much to Melquíades' chagrin, she harbors and tends to the criminal as her husband is out hunting for him.
|
Cheating Notes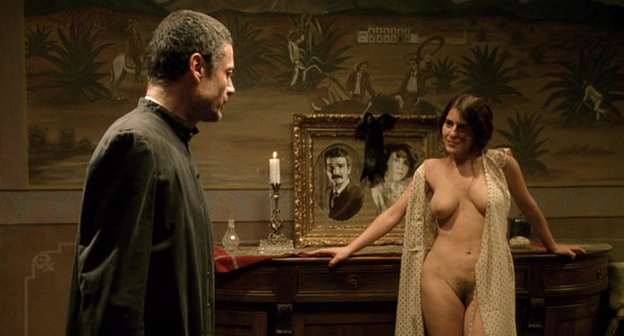 Read synopsis above first. We see Otilia fuck her first lover/customer at 28:31. It's been implied and told through dialog several times in the movie that she has been accepting guests to fuck in her farm but we don't really see her meet and fuck them except for that first one.
Sometime after Otilia has told her husband to not touch her anymore, while she is undressing in their bedroom, her husband takes a peek at the door. She tells him to get out. He tells her she's still the best female in an effort to woo her. She looks at him, smiles meanly, and tells him "Yes, but not for you." He looks devastated.
At 38:20, Otilia hangs out at the brothel, talking to a guest. Her cuckolded husband is there but is seated apart from her. Chenda, the madam of the brothel who's been having a beef with her, takes the guest away from her and diverts the attention of everybody to another lady who sings for the guests. Otilia steals the attention when she climbs down the stairs, wearing nothing but a mask which her husband insultingly gave her earlier. Her husband is aghast when he sees her naked in front of everybody, but it's too late for him to worry at this stage, really, as he is already way deep down in the cuckold hole at this point.
Otilia settles on the farm that she inherited from her parents and she restricts her husband from coming there. One day, Otilia finds Ruben, an outlaw, wounded in her barn. She nurses him. While he is still unconscious, she takes his hand and uses it to pleasure herself. At one point after he has awakened, she gives him a bath, touching his penis while she's at it.
At 1:02:20, a priest whom Otilia knows since she was a child visits the farm. She accuses him of spying for her husband. When he denies it, she exposes her naked body to him and seduces him. She tells him that he must have come for her then and urge him to do something to her body. He is about to touch her boobs but changes his mind and runs away. This is a very sexy scene.
When Ruben is all healed, he doesn't want to stay with Otilia and would rather go, but before he leaves, he fucks Otilia on the floor (1:14:29).
Watch Full Movie Online
---
---
---