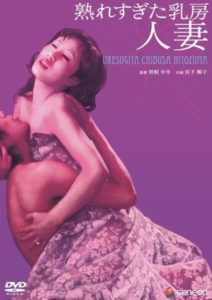 ---
This softcore pinku eiga melodrama from Nikkatsu in-house luminary Chusei Sone concerns a wedded lady (Junko Myashita) whose husband's unfaithfulness pushes her to sleep with both of her siblings' lovers. Kazuko Shirakawa, in one single of her last appearances before her highly publicized wedding, plays the combative mistress who convinces the heroine that her relationship has come to an end.
More Info: IMDB
Cheating Notes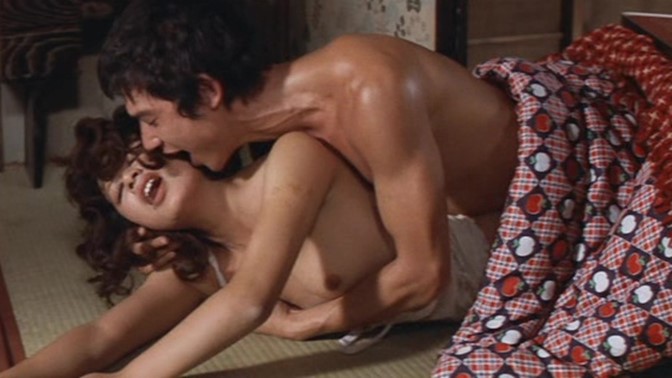 Note: Watched without subtitles
Natsuko meets her younger sister's boyfriend, Ishii
After Natsuko's husband leaves for work, her younger sister, along with her boyfriend Ishii visits her at her apartment. When she goes out to buy some groceries, her younger sister brings Ishii to Natsuko's bedroom to make out and supposedly have sex. But since Ishii is inexperienced, he ejaculates just by Natsuko's sister hanging some clothes on his dick using a hanger. Natsuko comes back from the grocery store and witnesses the end part of this, so she scolds her younger sister.
Natsuko meets her older sister's boyfriend, Fred
Natsuko visits her older sister at her place and witnesses her getting fucked by her boyfriend (I didn't get his name but let's call him Fred). She faints at the excessive display of eroticism. When she regains consciousness, her sister entertains her at her mini-bar and introduces her to Fred. When Natsuko's sister leaves the room, Fred says something perverted to her, which provokes Natsuko to slap him. However, he has made an impression on her because she fantasizes about having sex with him on her way home.
Natsuko fucks Ishii
Natsuko encounters Ishii on the street. She has coffee with him at a cafe, then goes with him to a disco bar. While dancing with Ishii, Natsuko recalls the perverted remark that Fred told her and slaps Ishii in confusion. She apologizes and cleans up his bruise a bit in the comfort room. Overall, this hanging out with Natsuko made Ishii develop some lust for his girlfriend's elder sister.
Natsuko's husband calls her from a hotel room, telling her that he can't come home tonight because of work. She hears the voice of his mistress in the background. She didn't express any anger but just puts down the phone and silently ponders while her husband bangs his mistress in the hotel room. Well, at least this gives her an excuse to start fucking around, especially when Fred has made her horny.
Ishii comes over to Natsuko's apartment to return the handkerchief that she used to clean up his bruise. She lets him in. Ishii makes an advance towards her, but she moves away. But she smiles when he isn't looking, so that means our wife is now open to fooling around.
Ishii tries to make another advance towards Natsuko, so she excuses herself and says that she has to go to her mother's house. She rides the bus, while Ishii follows her on foot. She is impressed by his persistence, so she lets him come with her to her mom's house.
When Natsuko's mom goes out, Ishii starts sexually attacking Natsuko. She is resistant at first, but finally, she leads him to a bed in her mom's basement to have sex with him. The inexperienced Ishii cums prematurely again while Natsuko is tugging on his stuck zipper. He starts dressing up because of embarrassment. But Natsuko appeases him and encourages him so that they can continue and finish their sex. She succeeds, so they have sex and Ishii cums on top of him. She seems unsatisfied though as the young Ishii came very fast, so she might be looking forward to fucking the horny Fred at this point if she gets the chance.
Natsuko fucks Fred
Natsuko encounters Fred on the street. He can't hang out with her at this time, though, so I think he just tells her that he will call her sometime.
One morning, when Natsuko's husband leaves for work, Fred calls her. They meet and drive somewhere far and settle in a hotel. At first, Natsuko is having doubts, but a few glasses of alcohol loosen her up and so she has nonresistant, full-on consensual sex with Fred. Her husband, meanwhile, comes home and does not find her at their house. He calls some people to find out where she is. In the end, he sleeps on the couch and waits for Natsuko while she is fucking Fred at a hotel room somewhere.
Info + Download Link: Rarelust.com
---
---
---