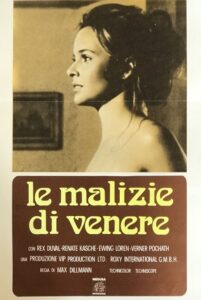 ---
A decadent aristocrat convinces his wife (Laura Antonelli) to participate in his strange sexual fantasies.
|
Cheating Notes
Author Severin (Vallée) is a moneyed cad who claims "even fishing is work for me". His dull summer holiday by the sea is suddenly enlivened by the arrival of leggy stripper-turned-model Wanda (Antonelli). Severin is soon revealed to be a pervert as he peeps through a hole at Wanda soaping herself in the shower before she fondles her breasts mindlessly in the mirror. The next day, Wanda has barely finished her morning coffee before she lures the resort's gardener back to her cabin for sex. Needless to say, Severin is on the other side of the wall to spy on them.
Smitten with Wanda, Severin uses his not too subtle but foolproof chat-up line on her: "I would like to go to bed with you." They promptly do and during Wanda's post-coital rendition of her stripper whip routine she accidentally strikes Severin's face. He enjoys it: "I want you to make me suffer!" Wanda then reveals that she knew Severin watched her with the gardener and admits to enjoying it.
The two filthy soul mates marry and begin a life of sexual conquests in which Wanda seduces men as Severin, disguised as her chauffeur in a nod to his childhood fantasy, watches excitedly from the wings. But with the introduction of a lesbian maid (Kasche) and Herculean hippy lover Bruno (Loren), marital bliss is soon on the rocks.
- review from eroticage.net
Watch Full Movie Online via Sexu.tv
---
---
---