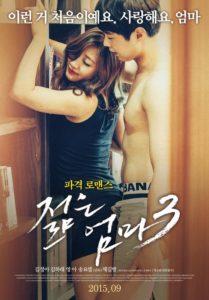 ---
Twenty year-old Ki-chan lives alone with his father. One day Yoon-seo (Kim Jeong-ah), his stepmother comes to live with them. She tries to be friendly with Ki-chan but he appraoches her as a woman and starts showing her that. Yoon-seo strongly rejects him but he knows that she wants him too. Their relationship turns into something dangerous. Then one day, Min-jeong, who has had a crush on Ki-chan for a long time, finds out what is going on between the two. The young stepmother fools her husband and falls in love with his son and the son falls in love with his father's woman. They make a deal with Min-jeong to make sure she doesn't say anything.
More Info: TMDB
|
Cheating Notes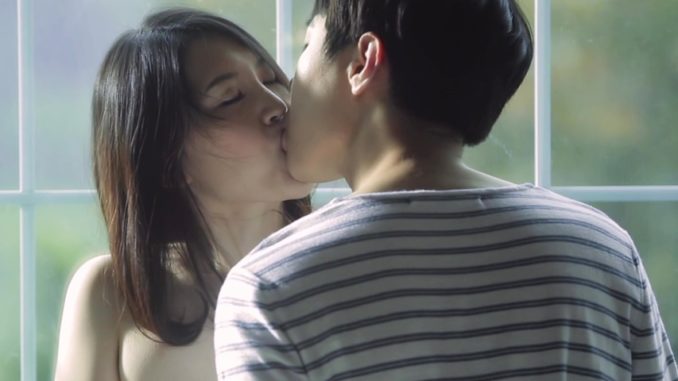 Summary and Recommendation
This is one of my favorite Korean softcore movies. The tension and relationship between the stepmom and the stepson are well-developed leading to their first sex. The prim and proper stepmom really tried all her best not to fuck her stepson and that's what made their first sex sweeter.
Their sneaky sex are great. There's their first sex where the father knocks and enters the room so mom has to hide behind the door and quietly go past him behind his back while he talks to his son. They also have sex on the front porch while the husband is inside the living room, visible from the window, and talking to someone on the phone. Then in the evening, the stepmom quietly slips out of her husband's side to go to her stepson's room to fuck him.
The wife might not be that pretty as far as Korean beauty standard goes, but don't let that discourage you. She will grow on you the more you watch her scenes and will find her very attractive and fuckable at the end of the movie.
Cheating Scenes in Young Mother 3 (2015)
Note: Watched without subtitles.
One day, the son's father comes home and introduces his new stepmom to him. He doesn't seem too pleased, as expected. The stepmom looks disappointed but is determined to get closer to her stepson.
One morning, the son checks out his stepmom while she's bending over on the floor, trying to get something below the couch.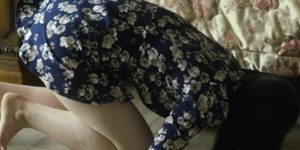 After having sex with her husband, the wife masturbates. Also, she uses a pregnancy test kit and gets disappointed at the negative result. A sexually dissatisfied wife with the desire to have a child but has an impotent husband? Two sure-fire reasons for a prim and proper wife to become a cheating slut.
Mom brings a sandwich to stepson's bedroom as part of her goal to win his heart. The son eats and savors the sandwich when he wakes up. After that, he goes down and savors watching the milky-white legs and panties of his stepmom who fell asleep on the couch.
The son enters mom's bedroom while she is taking a bath. He sees her sexy red panties on the bed and picks it up. Mom suddenly comes out of the bathroom so he has to hide her panties in his pant's back pocket. Mom notices it when he is leaving but doesn't say anything to him about it.
While at school, the son fantasizes about doing sexual things to his stepmom on the couch. He writes it on his journal in his laptop.
Hey, those are my panties, son ...
During nighttime, Mom enters her stepson's bedroom to give him some books. She sees her panties on his desk but initially doesn't say a word about it, probably not to embarrass him. But later, after they have a good chat, she does tell him something about it. She tells it in a joking manner, it seems, maybe to diffuse the situation and not embarrass him too much.
I'm really curious about what she told him, though. I mean, wouldn't you be curious what a stepmom will tell her stepson if she catches him stealing her sexy panties? Did she joke about him having fetishes with panties or something? Or maybe something about him wanting to wash them for her? Did she also tell him to return them once he's done with them? Or maybe she pretended that she doesn't know it's her panties and she's joking like they're the panties of his girlfriend? Oh, the sexiness of this scene is killing me.
Stepmom and stepson get closer
The son gets closer to his stepmom in the following days. He helps her carry her groceries upon arriving from the store and they have coffee together in a cafe.
One day, they play with the garden hose, making each other wet. The son ogles his stepmom's wet look, with her underwear visible through her wet clothing.
The son tries to kiss his stepmom
Inside his bedroom, the son fantasizes about his stepmom again and writes it in his journal. He imagines having sex with her and eating her out in the glass wall of their home. The stepmom looks so sexy here standing in front of her stepson on her bra and panties.  The stepson doesn't notice his stepmom come in and she nearly reads his journal in his laptop.
They tussle because she wants to read his journal, so their faces get really close to each other. They fall silent and stare at each other. Mom moves away but her stepson pulls her back and kisses her. She is shocked, pushes him away and starts to leave. She turns around and tells him something, maybe scolding him and telling him not to do it again. The father suddenly comes in and their moment is broken.
In the morning, the son talks to his stepmom after his father leaves for work. He grabs her arm in a not-so-stepmotherly way, more like someone he can have a relationship with, and she doesn't want it that way so she violently releases herself from his grasp. It seems that he is not apologizing for what he did but more like expressing his feelings for her. She, on the other hand, is telling him in a scolding manner to stop his dirty thoughts about her because there's no way she is going to fuck him due to her being his father's wife.
Stepson fucks his friend
A girl is frequently hanging with the son in his bedroom because she has a crush on him. He isn't really that interested in her, but tonight, he fucks her inside his bedroom to release the sexual urge that he has for his stepmom.
Meanwhile, his stepmom hears their moans downstairs and is bothered by it, making her spill some juice on her clothes. She goes to the bathroom to change but ends up pleasuring herself. Not sure if she is thinking of her stepson while masturbating or it is just the overall thought of a young couple having sex that made her horny. Either way, the stepson making his stepmom horny and pleasure herself means he's definitely out of the stepson-zone.
Stepmom finally reads her stepson's journal
The stepmom is finally able to read her stepson's journal when she brings a sandwich to his bedroom one morning. The stepson wakes up and they have an argument over it. I like that the stepmom is really firm over not fucking her stepson until now, even if he caused her to please herself the other day.
Son shouts "Mom!" while fucking his friend
The son has sex with his friend again and shouts "Mom!" while having an orgasm. His friend kicks him away from her body and gets mad, throwing some pillows at him. To add insult to injury, she also finds the stepmom's red panties that he hid below his pillow.
The girl exits his bedroom and encounters the stepmom in the living room. The son follows her down and the three of them have a heated argument. The stepmom slaps her stepson when he shouts at his friend. This wins her points from the girl.
The girl and the stepmom go to a nearby playground. They talk and bond and hit it off. After that, the stepmom comes home and talks to her stepson. They seem to reconcile, with the stepmom smiling at her stepson. The father arrives drunk and makes a comment about them warming up to each other.
Stepmom and stepson finally have sex
We are still in the same night, the stepmom assists her drunk husband to their bedroom, then goes back to the hallway. The stepson pulls her inside his room, then talks to her, probably about the thing between them. Stepmom gets mad because he is probably pushing for a relationship to happen between them again. She tries to leave a few times but he keeps pulling her back in until he finally kisses her.
The stepmom resists her stepson's kiss at first, but then gradually she kisses him back, putting her arms around his neck. After a while, the stepson stops because he can hear his father calling from outside. The stepmom reinitiates the kiss and pushes him down the bed.
After falling on the bed, the son gets on top of his stepmom. Mom lays willingly on the bed while they kiss continually. Finally, our prim and proper stepmom is ready to fuck the son of her husband.
They start taking their clothes off. They go all naked and are really dying to have sex, even though they know that the head of their house is just outside, either downstairs or in the hallway.
They start having proper sex, and this is a very sexy scene for me. Partly because the tension between them leading to this is well-developed, and partly because this sex scene is well done too.
Suddenly, the father knocks on the door. Mom has to hide behind the door.  The father enters and sees his son in his underwear. Mom quietly slips from behind the door behind her husband's back (this is another sexy scene for me). The father finally exits the room, not noticing that his wife's sexy black panties are down on the floor beside his son's bed.
The wife smiles while lying on her bed, so does the son on his. They know that they are going to have fun in the next coming days.
Stepmom and stepson have sex, sex, sex
The next day, the father leaves for work. Mom and son look and smile at each other. Oh yes, they are going to fuck today. The son calls somebody to tell them that he's not coming to school.
The two have sex in the master bedroom, with him mostly eating her out. The photo of the couple (alongside the son's photo) beside the bed comes into view while they're doing it.
During the night, the wife quietly slips out of her husband's side to go into her stepson's bedroom and have sex with him.
The next day, they also have sex on top of the dining table. Then on the couch, then back on the bed.
One time, they fuck in the front porch in a standing position while the clueless father can be seen inside the window, talking happily to someone on the phone. This particular sex scene is also very erotic for me.
Then, they fuck on the stairs. Doggy style at first, then they switch to her leaning on the wall while he pounds her from behind. After that, she returns to her husband's side in their bedroom with a satisfied look on her face.
Father finds out
Before the father starts to leave for work, he tells his wife and son how they look really comfortable with each other. Oh, he has no idea how comfortable they really are together... or hasn't he?
After the father leaves, stepmom and stepson fuck again but we don't see the sex scene this time, only the scene after where they are naked and cuddling on the couch.
The son's girlfriend suddenly arrives and sees them, but it seems that she's not surprised. She takes out her phone and takes a photo of them.
The three have some drama and they end up making a deal where they have a threesome, well sort of, because the girl just pleasures herself beside the two while they fuck.
Unknown to them, the husband didn't really go to work and is just outside the house. He enters and shows them a video of what the three of them just did. Apparently, he already knows what's going on. We see a flashback of the wife slipping quietly out of their bed and it turns out that the husband was awake at that time.
The stepmom tells her husband that she loves his son. The husband goes inside their bedroom and breaks stuff. Then he comes out and falls unconscious on the floor.
Two years later
The stepmom and son are now together in the same house. The father/husband is beside them, bound to the wheelchair and it looks like he's now a vegetable. The mom has a baby bump, most probably the stepson's child. So the son practically owns his father's nice house, covets his sexy wife and impregnates her too, and the father will sit and observe all of that in his vegetated state in his wheelchair for a long time. Boy, he got really cuckolded by his son big time.
More info for Young Mother 3 (2015)
Info + Torrent Download Link: Torrentz2.eu (4.9Gb High quality) | Torrentz2.eu (2.1Gb High quality)
Watch Full Movie Online: Pornhub.com (Standard Quality)
---
---
---