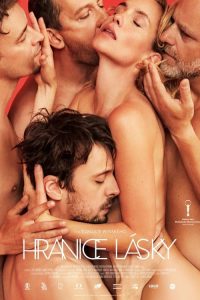 ---
After years together, Petr and Hana, partners in work and in life, share their unspoken erotic fantasies. What begins as an innocent conversation gradually turns into curious experimentation with a non-monogamous approach to their relationship. But sexual freedom tastes differently for each of them. Without resorting to exploitation, Tomasz Wiński's feature debut considers questions that are taboo for many couples. Borders of Love explores not only various forms of intimacy but also ways of depicting it on the big screen, since, among others, the protagonists themselves film each other on their mobile phones. Appearing in the main roles are Matyáš Řezníček and Hana Vagnerová, who collaborated on the film's story and script as well.
|
Cheating Notes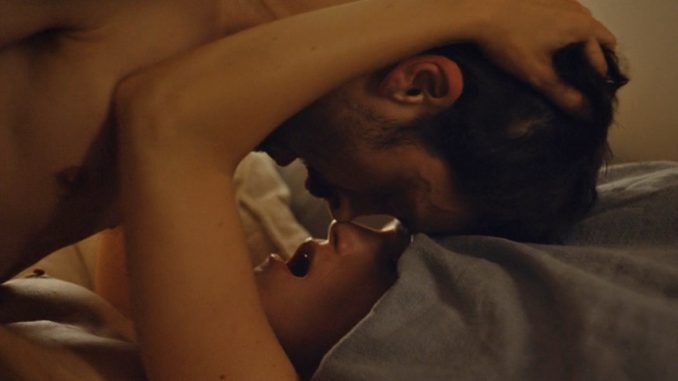 Well first, the gangbang that the film's poster is suggesting above didn't happen. A lot of things did happen in the movie and I'll just mention some of them.
Live-in couple Petr and Hana are introduced to partner swapping on the fly by their swinging friends, the couple Vanda and Vit (35:30). Vanda initiates it by kissing Petr on the couch, then Vit follows and starts kissing Hana beside them. The tension in this scene is unbearably heavy, which adds to its eroticism. Hana then gets fucked from behind by Vit, and she tells Petr later on their bed that she really got turned on while Vit was banging her because of the idea that she became one of the many women that Vit has fucked  (a.k.a. he is an alpha in her eyes).
Petr and Hana agree to have an open relationship. It's more Hana's idea because she became a horny slut who would like to sample other dicks now that she's tasted one. We see Petr watch her pick up men in bars or restaurants a few times although we don't see her fuck them.
At 43:55, Petr fucks a guy's wife (she sits and humps on top of him) while the guy watches them and masturbates. They are interrupted by the crying of the couple's baby. This is quite a hot scene.
Hana tells Petr that this certain guy (Marek) really satisfies her sexually. Petr finds out that she has seen him twice, which breaks their rule. Hana apologizes, and he tells Petr that Marek would like to talk to them.
Petr and Hana meet Marek but are surprised to find that Marek's female partner and another couple are also in the meeting. The two other couples try to convince Petr and Hana to have a polyamorous relationship with them. Petr gets pissed as he doesn't want to get involved in that kind of relationship and walks away. Hana wants to stay to apologize to the two other couples because of Petr's rudeness. This scene ends up with Hana fucking Marek in the bedroom while Petr listens to her hard, passionate moans while he's at the dining table with the three other people (1:09:11). Another hot, cuckolding scene.
Summary
Hot.
---
---
---